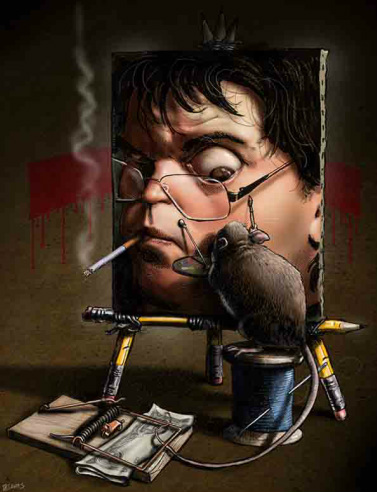 Sean Delonas Bio
Best known as the cartoonist for the New York Post's Page Six from 1990 to 2013. His cartoons are syndicated by
CagleCartoons
. An award winning painter and illustrator, his work has appeared in the nation's largest newspapers,magazines, books, television and Broadway.
Sean's work is in the permanent collections of the Smithsonian - National Museum of American History, the Library of Congress, Brooklyn Museum of Art, Newseum, the Cartoon Art Museum, New York Historical Society Museum and Library, the Billy Ireland Cartoon Library and Museum, appeared in a show at National Museum of Health and Medicine and was included in the multimedia presentation that accompanied the exhibition "Edward Hopper and the American Imagination " at the Whitney Museum of American Art.
A one man art show at the Limner Gallery led to his largest commission -- creating the altar painting for the Church of St. Agnes in NYC. Many of his friends at the NY Post, were the models for this painting.
Together with his son, is the author of
Scuttle's Big Wish
(ReganBooks/HarperCollins 2006 and Scholastic Books 2006) and,
Sean Delonas: The Ones They Didn't Print,
(Skyhorse Publishing, 2015).
Pulitzer prize winner, Mike McAlary's character, Scar [played by Glenn Fitzgerald], from CBS's "New York News" was "
drawn from that wacky talent, Sean Delonas.
" Mike McAlary, NEW YORK DAILY NEWS Wednesday, August 2, 1995.
His work is in the private collections of celebrities, politicians, and other public figures, including George H.W. Bush, James Baker, Andrew Lloyd Weber, Howard Stern, George Steinbrenner, Spike Lee, Rush Limbaugh, Dan Rather, Wolf Blitzer, Steve Kroft, Mario Cuomo, John Cardinal O'Connor, Jackie Mason , etc.
He is a graduate of the New York Academy of Art and is the winner of the Art Masters Award from American Artist Magazine and the Audubon Artists Gold Medal of Honor.
Sean enjoys teaching at the Baum School of art.
He lives with his son, their two dogs, and enjoys painting, music and scuba diving.
---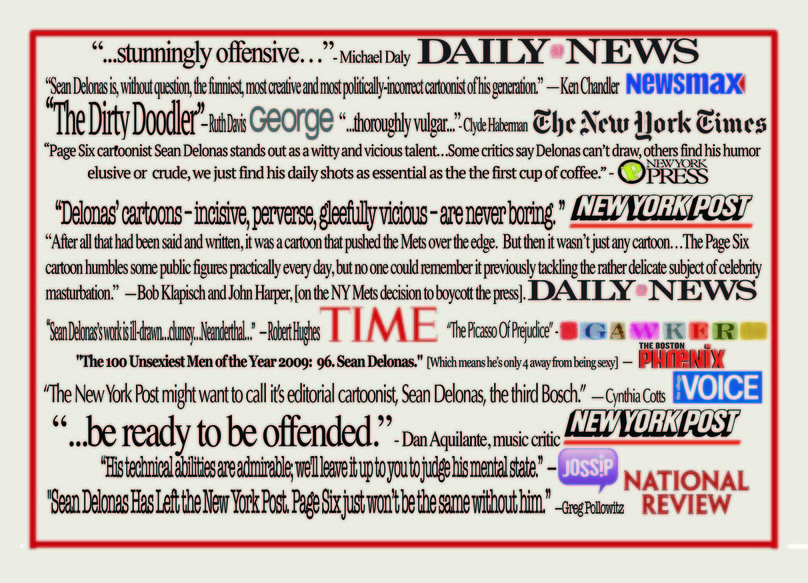 PRESS CLIPPINGS
"Sean Delonas Has Left the New York Post
. Page Six just won't be the same without him."
--
NATIONAL REVIEW, Greg Pollowitz.
"Sean Delonas is, without question, the funniest, most creative and most politically-incorrect cartoonist of his generation." —
BOSTON HERALD, Ken Chandler.
"
His technical abilities are admirable; we'll leave it up to you to judge his mental state."
— JOSSIP.
"The New York Post might want to call it's editorial cartoonist, Sean Delonas, the third Bosch."
— VILLAGE VOICE, Cynthia Cotts.
"Sean Delonas's work is ill-drawn…clumsy…Neanderthal…"
— TIME MAGAZINE, Robert Hughes.
"…is powerful, technically brilliant,, and revealing of the artist's extensive study in traditional art and anatomy."
— Learning from Today's Art Masters, AMERICAN ARTIST.
"After all that had been said and written, it was a cartoon that pushed the Mets over the edge. But then it wasn't just any cartoon…The Page Six cartoon humbles some public figures practically every day, but no one could remember it previously tackling the rather delicate subject of celebrity masturbation." --NEW YORK DAILY NEWS, Bob Klapisch and John Harper, 03/28/1993 [on the 1992 NY Mets decision to boycott the press]."Page Six cartoonist Sean Delonas stands out as a witty and vicious talent…Some critics say Delonas can't draw, others find his humor elusive or crude, we just find his daily shots as essential as the the first cup of coffee."
NEW YORK PRESS, Best Daily Cartoonist.
"The Dirty Doodler"
— GEORGE MAGAZINE, Ruth Davis.
"The Picasso Of Prejudice"
— GAWKER.
"The 100 Unsexiest Men of the Year 2009: 96. Sean Delonas."
[Which means I'm only 4 away from being sexy] —THE BOSTON PHOENIX, 2009.
"Inventive…gorgeous illustrations…charming tale."
— PBS [review of the book
Scuttle's Big Wish
which I co-wrote and illustrated with my son Ryan].
"Sean Delonas may be the worst cartoonist on the planet."
VANITY FAIR, Julian Sancton.
""Laugh out loud funny picture book children will love…"
— CHILDREN'S BOOK REVIEW, [review of the book
Scuttle's Big Wish
which I co-wrote and illustrated with my son Ryan].
"Speaker of the House Tom Foley practically shot throughout the Capitol dome when he saw Friday's Delonas cartoon on the Post's Page Six…'It's in the worst possible taste.' Hmmmmm. Bad taste? In a Post cartoon?"
— NEW YORK NEWDAY, Doug Vaughan and Anthony Scaduto.
"…finally have a show of Delonas' fine art, demonstrating …that he can party like it's 1499… I've heard his drawing style compared to that of Albrecht Durer, and that is an accurate if obvious comparison."
—
MANHATTAN SPIRIT,
Tim Cavanaugh.
"…that wacky talent, Sean Delonas…"
— NEW YORK DAILY NEWS, pulitzer prize winner, Mike McAlary.
"stunningly offensive…" Michael Daly, NEW YORK DAILY NEWS
"I haven't had an alcoholic drink between shows for at least 15 years or more," Sue Simmons said [NBC 4 NY]. "Not one word of [the
cartoon
] is true." …Luckily, the tabloid's eternally polite cartoonist Sean Delonas doesn't let silly things like denials get in the way of his art. NEW YORK MAGAZINE.
"Delonas' cartoons – incisive, perverse, gleefully vicious – are never boring." NY POST
"The New York Post's Sean Delonas, one of the great humorists." THE NEW YORK SUN, Editorial.
""Sean Delonas...insensitive and offensive" -CNN
NAACP wants cartoonist fired... "thoughtlessness taken to the extreme. ... Anyone who is not offended by [Delonas' cartoons} does not have any sensitivity." -HUFFINGTON POST, Verena Dobnik.
"The spokeswoman for [Muslim Public Affairs Council] called the latest provocation from
New York Post
cartoonist Sean Delonas "insane," -Rebecca Elliott, BUZZFEED.
"offensive...pure divisive and denigrating...he has a history." -NYC Mayor, Bill de Blasion, NY1
---