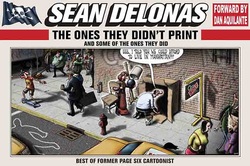 Big thank you to the great Billy Heller for plugging my book in the NY Post's must-read books.
Also many thanks to the two best gossip writers ever, Page Six's Emily Smith and Ian Mohr, for plugging the book.
This week's must-read books
By
Billy Heller
July 11, 2015 | 9:51pm
Sean Delonas: The Ones They Didn't Print and Some of the Ones They Did by Sean Delonas
(Skyhorse)
From 1990 to 2013, artist Sean Delonas was the man behind the often funny, often controversial and always topical cartoons in the middle of the New York Post's Page Six. Michael Jackson and Bubbles the chimp, Donald Trump and his hair, Bill and Hillary Clinton (of course), Lindsay Lohan and Iranian ayatollahs were all the subject of Delonas' barbed pen. And despite the title, most of the 201 cartoons really were printed in the paper.

http://nypost.com/2015/07/11/this-weeks-must-read-books-84/
Former Page Six artist releases collection of cartoons
By
Ian Mohr
June 4, 2015 | 10:19pm
Former Page Six artist Sean Delonas' new book of 201 cartoons is titled, "
The Ones They Didn't Print and Some of the Ones They Did
."
But always-irreverent Delonas — who worked at The Post from 1990 to 2013 — joked to us of the tome, "There were cartoons that Skyhorse Publishing wouldn't print, either. Guess they agreed with the Post editors."
His work's known for mercilessly skewering figures from
Bill Clinton
to
Lindsay Lohan
. When Delonas' editors once rejected a cartoon depicting
Michael Jackson
hugging a young boy in celebration of his acquittal on sexual misconduct charges and losing a glove in the kid's pants, Delonas instead drew the same toon as a framed painting in the background of his replacement offering.
That one showed the King of Pop at dinner with the bones of the Elephant Man, an anaconda and Bubbles the chimp, assuring them, "With the trial over, things can get back to normal around here."
http://pagesix.com/2015/06/04/former-page-six-artist-releases-collection-of-cartoons/