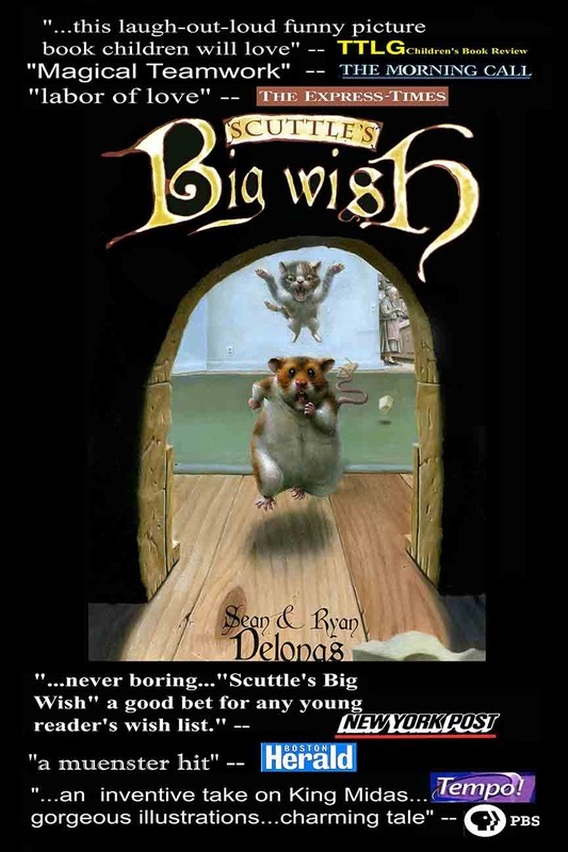 Delonas, Sean and Ryan.
Scuttle's Big Wish
. New York. ReganBooks/HarperCollins 2006 and Scholastic Books, 2007.
What happens when a little mouse gets his biggest wish— and the whole world turns into cheesse?Sean Delonas and his son, Ryan, revisit the King Midas story in this charming tale of a mouse who learns to be careful of what he wishes for. Scuttle loves cheese more than anything else in the world. When Scuttle rescues a golden beetle from a spider's web one day, the magical beetle grants him a wish, and Scuttle wishes that everything he touches turns to cheese. Chaos ensues as Scuttle's whole world— including his feline pursuer, Pounce, and his best friend, Tweet— turns into cheese.
http://www.amazon.com/Scuttles-Wish-Sean-Ryan-Delonas/dp/0545004454/ref=sr_1_3?ie=UTF8&qid=1426657990&sr=8-3&keywords=Sean+Delonas
---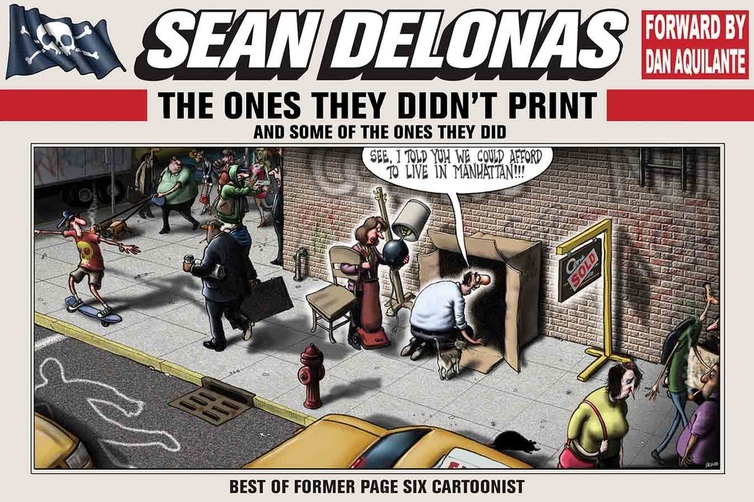 Delonas, Sean.
Sean Delonas: The Ones They Didn't Print and Some of the Ones They Did
. New York. Skyhorse Publishing, Inc., June 2nd 2015.
Page Six in the
New York Post
is a must-read for any New Yorker interested in the latest celebrity gossip, political scandal, or general dirt about the rich and famous. For almost a quarter of a century, the middle of Page Six was filled with the cartoons of Sean Delonas, and now, for the first time ever,
Sean Delonas: The Ones They Didn't Print and Some of the Ones They Did
collects Sean's favorite cartoons from his days at the Post, as well as some that the paper never printed.
Delonas lampoons politicians, sports figures, pop culture, and celebrities and spares neither liberals nor conservatives in his provocative cartoons. From Obama, Clinton, Bush, and Romney, to the Kardashians, Michael Jackson, Lindsay Lohan, and Donald Trump, no one is safe from Delonas's humorous eye. Delonas has always pushed the limits with his art, which is often politically incorrect and frequently over the top. This collection of over two hundred full-color cartoons, along with a foreword by former
New York Post
music critic Dan Aquilante, is a must-have book for any
New York Post
fan or cartoon enthusiast.
http://www.amazon.com/Sean-Delonas-Didnt-Print-Cartoons/dp/1632203650/ref=sr_1_1?ie=UTF8&qid=1426657863&sr=8-1&keywords=Sean+Delonas
---