STORE
BOOKS
Delonas, Sean and Ryan.

Scuttle's Big Wish

. New York. ReganBooks/HarperCollins 2006 and Scholastic Books, 2007.

What happens when a little mouse gets his biggest wish— and the whole world turns into cheesse?Sean Delonas and his son, Ryan, revisit the King Midas story in this charming tale of a mouse who learns to be careful of what he wishes for. Scuttle loves cheese more than anything else in the world. When Scuttle rescues a golden beetle from a spider's web one day, the magical beetle grants him a wish, and Scuttle wishes that everything he touches turns to cheese. Chaos ensues as Scuttle's whole world— including his feline pursuer, Pounce, and his best friend, Tweet— turns into cheese.

Hard and soft cover
4 and up
40 pages
HarperCollins and Scholastic

http://www.amazon.com/Scuttles-Wish-Sean-Ryan-Delonas/dp/0545004454/ref=sr_1_3?ie=UTF8&qid=1426657990&sr=8-3&keywords=Sean+Delonas
Delonas, Sean.

Sean Delonas: The Ones They Didn't Print and Some of the Ones They Did

. New York. Skyhorse Publishing, Inc., June 2nd 2015.

Page Six in the

New York Post

is a must-read for any New Yorker interested in the latest celebrity gossip, political scandal, or general dirt about the rich and famous. For almost a quarter of a century, the middle of Page Six was filled with the cartoons of Sean Delonas, and now, for the first time ever,

Sean Delonas: The Ones They Didn't Print and Some of the Ones They Did

collects Sean's favorite cartoons from his days at the Post, as well as some that the paper never printed.

Delonas lampoons politicians, sports figures, pop culture, and celebrities and spares neither liberals nor conservatives in his provocative cartoons. From Obama, Clinton, Bush, and Romney, to the Kardashians, Michael Jackson, Lindsay Lohan, and Donald Trump, no one is safe from Delonas's humorous eye. Delonas has always pushed the limits with his art, which is often politically incorrect and frequently over the top. This collection of over two hundred full-color cartoons, along with a foreword by former

New York Post

music critic Dan Aquilante, is a must-have book for any

New York Post

fan or cartoon enthusiast.

Hardcover
208 pages
Skyhorse Publishing

http://www.amazon.com/Sean-Delonas-Didnt-Print-Cartoons/dp/1632203650/ref=sr_1_1?ie=UTF8&qid=1426657863&sr=8-1&keywords=Sean+Delonas

---

Like my cartoons? Want to own the original pen & drawing?
Now you can, prices starting at $250.00. Most cartoons posted on the "cartoons" page are available.
---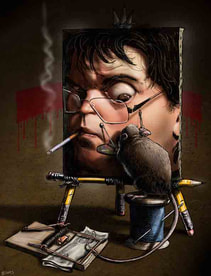 COMMISSIONS
Commissions accepted, please contact for price quote. Only serious inquiries.
---
LESSONS
Please note that because of a sickness in the family, will temporarily not being offering private lessons in my home.
Teaching Drawing and Painting at the

Baum School of Art

.

Instruction in Drawing, Figure Drawing, and Painting.
​Located in the Lehigh Valley. Cost is $70 per 2 hr lesson. Lessons are limited to no more than 3 students at one time. Instruction given in my home except for landscapes which are given on location (weather permitting). Teaching traditional methods and techniques of painting and drawing. Knowledge and mastery of these skills will help students to better develop their own unique artistic visions. My approach is very structured and I'm very dedicated to my students.Students work on various assignments (cast drawing, still life, portraiture, figure, etc) but are also encouraged to bring in their own work. I'm very committed to my students and when not in class, students can email me pictures of their work along with any questions they might have.Will attempt to accommodate any student with disabilities. If unable to accommodate, am willing to drive (if at a reasonable distance) to that student's house for private instruction.If any student can not legitimately afford the cost, please talk to me. As long as that student works hard, will try to work out some other arrangement.Please note: that I have two dogs (boxers), who are overly friendly. They can be annoying for the first minute that someone comes over, but quickly calm down and will leave you alone unless you pet them or offer them food.There's a waiting room for parents with TV, wifi access, and a coffee machine.